PTA - Friends of Herne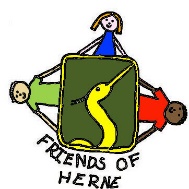 Friends of Herne
We are a group of interested parents and staff who organise social and fundraising events to provide extra money for equipment and school trips. Our current fundraising focus is to provide more facilities outside for the children.
We would love to hear your comments, suggestions and feedback regarding anything to do with Friends of Herne.
We are always looking for new people to come and help at our events, to provide ideas, or carry out small tasks for us. If you can provide any help at all, however large or small, then please contact us.
If you are able to help in any way, please email admin@hernejunior.com
Thank you.
We will earn a commission for all vegetable orders made through the website: http:thelocalvegboxpeople.co.uk – just enter the code Herne at the checkout.
You can help to raise funds for Friends of Herne by doing your
internet shopping via our weblink:
http://www.easyfundraising.org.uk/friendsofherne

We will also earn a commission if you use our easysearch
internet search engine (rather than Google or Yahoo):
http://friendsofherne.easysearch.org.uk
If you shop with Yellow Moon for your craft and gift needs, please quote the code:
STH1658
and we will earn cash-back on your purchase.
And all of this at no extra cost to yourselves!
For any further information, or to volunteer to help in any way,
please contact us: foh-pta@outlook.com