HAVE A GREAT SUMMER HOLIDAY
We re-open to children on Thursday 3rd September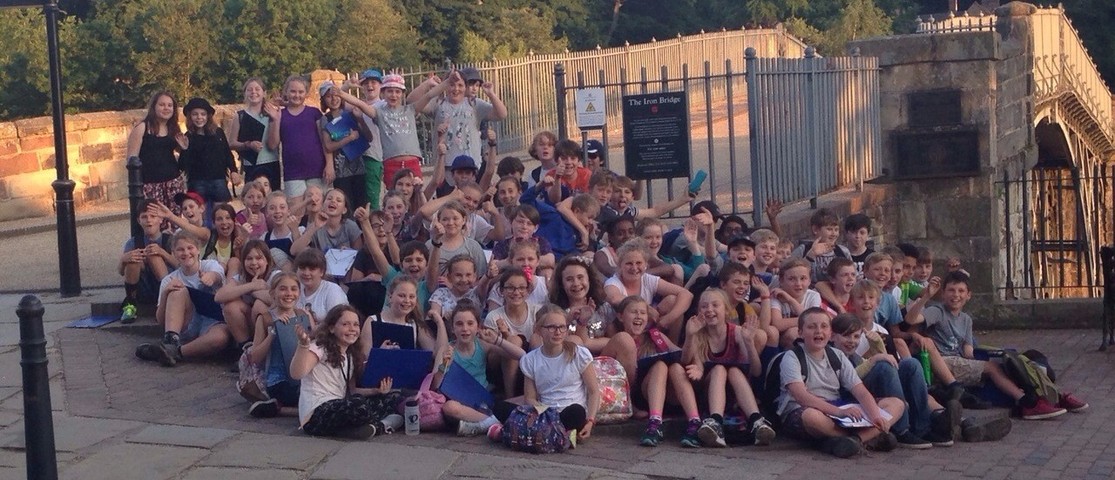 IRONBRIDGE 2015
Monday 29th June 2015
The children had a fantastic day at Shrugborough Hall learning about what life was like in Victorian times (they were meant to look miserable in some of the photos - they were getting into character). They all arrived safely at their hostels!
Tuesday 30th June 2015
Another fun packed day at Ironbridge. With tile making, walking at Carding Mill Valley, activities at Wightwick Manor...and finishing the day at the famous Iron Bridge.
Wednesday 1st July 2015
The sun was definitely out at Ironbridge today. The children rotated yesterday's activities - so more tile making, creating clay faces, Wightwick Manor and a beautiful walk in Carding Mill Valley.
Thursday 2nd July 2015
Everyone went to the brilliant Blists Hill today and stepped back in time onto the streets of Victorian Britain. There was quite a lot of rain but it did not dampen the spirits. We are having some reception problems at Ironbridge at the moment - hopefully some photos will come through soon!
"Herne's curriculum is exceptionally well complemented by trips and expeditions.
The children enjoy their lessons; they make good progress and reach an above-average standard in their work.
The best teaching is inspirational; all have the interests of the pupils at heart".
Ofsted 2012-13.
Year Group News & Events

(Please click on the Year Group for Photos)
April 2015 - Butser Ancient Farm
December 2014 - Christmas Performance
September 2014 - Sustainability Centre
October 2014 - Weald and Downland
April 2015 - Watercress Line (WWII)
September 2014 - The Space Dome
March 2015 - Fairthorne Manor
September 2014- Dell Quay
November 2014 - Josh Lacey (Author visits)
October 2014 -WWI Day
September 2014 - Butser Run
Follow us on Twitter @HerneJunior
(317 Followers)
Latest School Events
Inset Day

01

Sep

2015

Inset Day

02

Sep

2015

First day of term for Pupils

03

Sep

2015